Tom's Web Site
|
Home
|
Site Links
|
Some Things to Think About




Feast of Sovereignty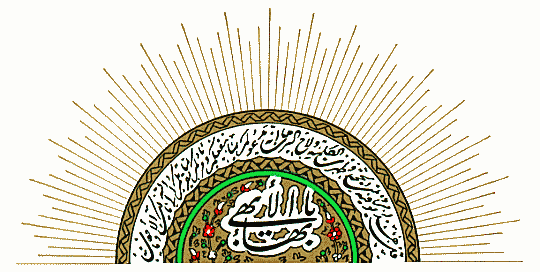 When a movement fundamentally religious makes a weak nation strong, changes a nondescript tribal people into a mighty and powerful civilization, rescues them from captivity and elevates them to sovereignty, transforms their ignorance into knowledge and endows them with an impetus of advancement in all degrees of development (this is not theory, but historical fact) it becomes evident that religion is the cause of man's attainment to honor and sublimity.
(Abdu'l-Baha, Address on Christians, Muslims and Jews)
The Holy Land was conquered by the power of the Covenant of God with Abraham, and the glory of the Solomonic wisdom and sovereignty dawned. All this was due to the religion of God which this blessed lineage established and upheld. It is evident that throughout the history of Abraham and His posterity this was the source of their honor, advancement and civilization. Even today the descendants of His household and lineage are found throughout the world.
(Abdu'l-Baha, Baha'i World Faith - Abdu'l-Baha Section, p. 271 )
The souls who have been enlightened with the light of the Kingdom, however, have founded eternal sovereignty. They shine, like unto the stars, upon the horizon of everlasting glory. The Apostles were fishers. Consider thou to what a high station they did rise; and to what great sovereignty they did attain, whose duration and permanence runs to eternity!
(Abdu'l-Baha, Baha'i World Faith - Abdu'l-Baha Section, p. 385 )
SUPPLICATION
O GOD, O GOD, I GLORIFY THEE O MY LORD, MY HOPE, MY BELOVED AND THE OBJECT OF MY LIFE. VERILY THOU KNOWEST MY HUMILITY, MY EVANESCENCE, MY POVERTY, MY AGITATION AND MY SHORTCOMINGS. I CALL ON THEE WITH A HEART OVERFLOWING WITH THY LOVE, A SPIRIT REJOICED BY THE OUTPOURINGS OF THY ONENESS, AND A SOUL RESTING IN THY COMMEMORATION AND PRAISE.
O LORD, O LORD, VERILY THESE ARE SOULS WHO ARE ATTRACTED TO THE KINGDOM OF THY HOLINESS, HEARTS ENKINDLED WITH THE FIRE OF THY LOVE AND SPIRITS SOARING TOWARD THE ATMOSPHERE OF THY GRACE.
O LORD, O LORD, ILLUMINE OUR EYES WITH THE RAYS OF THE SUN OF THY REALITY, SUFFER OUR EARS TO HEAR, UNDER ALL CIRCUMSTANCES, THE CALL OF THY KINGDOM, THE EL-ABHA.
O LORD, O LORD, MAKE US FIRM IN THY CAUSE, HUMBLE BEFORE THY MAJESTY, ACKNOWLEDGING THY DOMINION, ARISING IN THY SERVICE AND BEING ENGAGED IN THY ADORATION.
VERILY THOU ART THE CLEMENT; VERILY THOU ART THE OMNIPOTENT; VERILY THOU ART THE MERCIFUL OF THE MOST MERCIFUL.
(Abdu'l-Baha, Divine Philosophy, p. 46 )
God is eternal and ancient; not a new God. His sovereignty is of old, not recent; not merely existent these five or six thousand years. This infinite universe is from everlasting. The sovereignty, power, names and attributes of God are eternal, ancient. His names presuppose creation and predicate His existence and will. We say God is creator. This name creator appears when we connote creation. We say God is the provider. This name presupposes and proves the existence of the provided. God is love. This name proves the existence of the beloved. In the same way God is mercy, God is justice, God is life, etc., etc. Therefore as God is creator, eternal and ancient, there were always creatures and subjects existing and provided for. There is no doubt that divine sovereignty is eternal. Sovereignty necessitates subjects, ministers, trustees and others subordinate to sovereignty. Could there be a king without country, subjects and armies? If we conceive of a time when there were no creatures, no servants, no subjects of divine lordship we dethrone God and predicate a time when God was not. It would be as if He had been recently appointed and man had given these names to Him. The divine sovereignty is ancient, eternal. God from everlasting was love, justice, power, creator, provider, the omniscient, the bountiful.
As the divine entity is eternal, the divine attributes are co-existent, co-eternal. The divine bestowals are therefore without beginning, without end. God is infinite; the works of God are infinite; the bestowals of God are infinite. As His divinity is eternal, His lordship and perfections are without end.
(Abdu'l-Baha, Foundations of World Unity, p. 102 )
To be brief; our purpose is to show that the divine sovereignty, the Kingdom of God, is an ancient sovereignty; that it is not an accidental sovereignty; just as a kingdom presupposes the existence of subjects, of an army, of a country; for otherwise the state of dominion, authority and kingdom cannot be conceived of.
(Abdu'l-Baha, Foundations of World Unity, p. 108 )
O my Lord! Verily, Thy power hath enveloped all things, Thy dominion, Thy glory and Thy sovereignty have become manifest as the manifestation of the sun in mid-day; Thy Word hath penetrated the reality of the contingent beings; Thy voice hath been raised on the apex of the world; Thy beaming lights have radiated from the dawning-places of all the horizons and Thy wonderful refulgent signs have become known in all directions; consequently the sights and insights have become dazzled by beholding these manifestations of truth!
(Abdu'l-Baha, Tablets of Abdu'l-Baha v3, p. 570 )
Every foundation will finally become collapsed; every glory and splendor will at last vanish and disappear, but the Kingdom of God is eternal and the heavenly sovereignty and majesty will stand firm, everlasting. Hence in the estimation of a wise man the mat in the Kingdom of God is preferable to the throne of the government of the world.
(Abdu'l-Baha, Tablets of the Divine Plan, p. 79 )
Take heed that ye do not vacillate in your determination to embrace the truth of this Cause -- a Cause through which the potentialities of the might of God have been revealed, and His sovereignty established. With faces beaming with joy, hasten ye unto Him. This is the changeless Faith of God, eternal in the past, eternal in the future. Let him that seeketh, attain it;
(Baha'u'llah, Gleanings from the Writings of Baha'u'llah, p. 136 )
Arise, and serve Him Who is the Desire of all nations, Who hath created you through a word from Him, and ordained you to be, for all time, the emblems of His sovereignty.
(Baha'u'llah, Gleanings from the Writings of Baha'u'llah, p. 211 )
Praised be Thou, O Lord my God! I am Thy servant and the son of Thy servant. I have set my face towards Thy Cause, believing in Thy oneness, acknowledging Thy unity, recognizing Thy sovereignty and the power of Thy might, and confessing the greatness of Thy majesty and glory. I ask Thee, by Thy name through which the heaven was cleft asunder, and the earth was rent in twain, and the mountains were crushed, not to withhold from me the breezes of Thy mercy which have been wafted in Thy days, nor to suffer me to be far removed from the shores of Thy nearness and bounty.
(Baha'u'llah, Prayers and Meditations by Baha'u'llah, p. 24 )
Let him then stand and say:
Make my prayer, O my Lord, a fountain of living
waters whereby I may live as long as Thy sovereignty
endureth, and may make mention of Thee in every
world of Thy worlds.
(Baha'u'llah, The Kitab-i-Aqdas, p. 93 )