Tom's Web Site
|
Home
|
Site Links
|
Some Things to Think About




Feast of Knowledge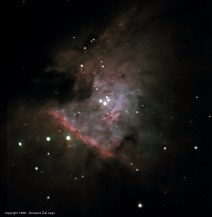 The sea of the unity of mankind is lifting up its waves with joy, for there is real communication between the hearts and minds of men. The banner of the Holy Spirit is uplifted, and men see it, and are assured with the knowledge that this is a new day.
(Abdu'l-Baha, Abdu'l-Baha in London, p. 19)
The gift of God to this enlightened age is the knowledge of the oneness of mankind and of the fundamental oneness of religion. War shall cease between nations, and by the will of God the Most Great Peace shall come; the world will be seen as a new world, and all men will live as brothers.
(Abdu'l-Baha, Abdu'l-Baha in London, p. 19)
God has created the world as one -- the boundaries are marked out by man. God has not divided the lands, but each man has his house and meadow; horses and dogs do not divide the fields into parts. That is why Baha'u'llah says: "Let not a man glory in that he loves his country, but that he loves his kind." All are of one family, one race; all are human beings. Differences as to the partition of lands should not be the cause of separation among the people.
(Abdu'l-Baha, Abdu'l-Baha in London, p. 55)
To know this is not enough. All knowledge is good, but it can bear no fruit except by action. It is well to know that riches are good, but that knowledge will not make a man rich; he must work, he must put his knowledge into practice. We hope the people realize and know that unity is good, and we also hope that they will not be content to stand still in that knowledge. Do not only say that Unity, Love and Brotherhood are good; you must work for their realization.
(Abdu'l-Baha, Abdu'l-Baha in London, p. 60)
Science and Faith
The gentleman then put a question which he said he considered of very great importance in connection with a religious movement, claiming to be universal. What position he asked, if any, did Baha'u'llah given to the modern ideas and conceptions of Science in his teachings. The whole structure of modern civilization is based upon the results and the knowledge obtained through laborious and patient observation of facts collected by men of Science: in some cases through hundreds of years of painstaking investigation. To make his meaning clearer, he instanced the ethic, and the moral teachings of the Chinese philosophers, than which he could conceive nothing higher. However, these teachings had very little effect outside of China, for the reason he considered, that they were not primarily based on the teachings of Science.
Abdu'l-Baha replied that a very great importance was given to Science and knowledge in the writings of Baha'u'llah, who wrote that, if a man educated the children of the poor, who could not themselves afford to do so, it was, in the sight of God, as if he had educated the Son of God.
If any religion rejected Science and knowledge, that religion was false. Science and Religion should go forward together; indeed, they should be like two fingers of one hand.
Baha'u'llah had also in His writings given a most important place to Art, and the practice of skilled trades. He had stated that the practice of an Art or Trade in the true spirit of service was identical with the worship of God.
A gentleman connected with the work of a Settlement then asked what was the best method of raising up and civilizing the very lowest and most degraded and ignorant of the people and would their education come about gradually through the enlightenment of the Spirit, or was there any special means we could adopt to further this end?
Abdu'l-Baha replied that the best way was to give them spiritual teachings and enlightenment. He also remarked that the way to broaden the outlook of the very narrow-hearted and prejudiced, and to make them listen to a wider teaching, was by showing towards them the greatest kindness and love. The example of our lives was of more value than words.
(Abdu'l-Baha, Abdu'l-Baha in London, p. 71)
When a movement fundamentally religious makes a weak nation strong, changes a nondescript tribal people into a mighty and powerful civilization, rescues them from captivity and elevates them to sovereignty, transforms their ignorance into knowledge and endows them with an impetus of advancement in all degrees of development (this is not theory, but historical fact) it becomes evident that religion is the cause of man's attainment to honor and sublimity.
(Abdu'l-Baha, Address on Christians, Muslims and Jews)
Lauded and glorified art Thou, O Lord, my God! How can I make mention of Thee, assured as I am that no tongue, however deep its wisdom, can befittingly magnify Thy name, nor can the bird of the human heart, however great its longing, ever hope to ascend into the heaven of Thy majesty and knowledge.
(Baha'u'llah, Gleanings from the Writings of Baha'u'llah, p. 3)
These sanctified Mirrors, these Day Springs of ancient glory, are, one and all, the Exponents on earth of Him Who is the central Orb of the universe, its Essence and ultimate Purpose. From Him proceed their knowledge and power; from Him is derived their sovereignty. The beauty of their countenance is but a reflection of His image, and their revelation a sign of His deathless glory. They are the Treasuries of Divine knowledge, and the Repositories of celestial wisdom. Through them is transmitted a grace that is infinite, and by them is revealed the Light that can never fade.... These Tabernacles of Holiness, these Primal Mirrors which reflect the light of unfading glory, are but expressions of Him Who is the Invisible of the Invisibles. By the revelation of these Gems of Divine virtue all the names and attributes of God, such as knowledge and power, sovereignty and dominion, mercy and wisdom, glory, bounty, and grace, are made manifest.
These attributes of God are not, and have never been, vouchsafed specially unto certain Prophets, and withheld from others. Nay, all the Prophets of God, His well-favored, His holy and chosen Messengers are, without exception, the bearers of His names, and the embodiments of His attributes. They only differ in the intensity of their revelation, and the comparative potency of their light. Even as He hath revealed: "Some of the Apostles We have caused to excel the others."
(Baha'u'llah, Gleanings from the Writings of Baha'u'llah, p. 47)
O people! I swear by the one true God! This is the Ocean out of which all seas have proceeded, and with which every one of them will ultimately be united. From Him all the Suns have been generated, and unto Him they will all return. Through His potency the Trees of Divine Revelation have yielded their fruits, every one of which hath been sent down in the form of a Prophet, bearing a Message to God's creatures in each of the worlds whose number God, alone, in His all-encompassing Knowledge, can reckon. This He hath accomplished through the agency of but one Letter of His Word, revealed by His Pen -- a Pen moved by His directing Finger -- His Finger itself sustained by the power of God's Truth.
(Baha'u'llah, Gleanings from the Writings of Baha'u'llah, p. 104)
In the Iqan, Baha'u'llah, wishing to emphasize the transcendent character of this new Day of God, reinforces the strength of His argument by His reference to the text of a correct and authorized tradition, which reveals the following: "Knowledge is twenty and seven letters. All that the Prophets have revealed are two letters thereof. No man thus far hath known more than these two letters. But when the Qa'im shall arise, He will cause the remaining twenty and five letters to be made manifest." And then immediately follow these confirming and illuminating words of Baha'u'llah: "Consider: He hath declared knowledge to consist of twenty and seven letters, and regarded all the prophets, from Adam even unto Muhammad, the 'seal,' as expounders of only two letters thereof. He also saith that the Qa'im will reveal all the remaining twenty and five letters. Behold from this utterance how great and lofty is His station! His rank excelleth that of all the prophets, and His revelation transcendeth the comprehension and understanding of all their chosen ones.
(Shoghi Effendi, The World Order of Baha'u'llah, p. 24)