Tom's Web Site
|
Home
|
Site Links
|
Some Things to Think About




Feast of Words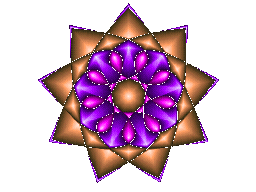 Few that were there will ever forget the sight of that venerable figure clad in his Eastern garb, ascending the pulpit stairs to address a public gathering for the first time in his life. That this should be at a Christian place of worship in the West has its own deep significance. Mr. Campbell introduced the visitor with a few simple words in the course of which he said: "We, as the followers of the Lord Jesus Christ, who is to us and will always be the Light of the World, view with sympathy and respect every movement of the Spirit of God in the experience of mankind, and therefore we give greeting to Abdu'l-Baha in the name of all who share the spirit of our Master, and are trying to live their lives in that Spirit. The Baha'i Movement is very closely akin to, I think I might say is identical with, the spiritual purpose of Christianity."
Before Abdu'l-Baha left the Church, he wrote in the old Bible used by generations of preachers, the following words in his own native Persian, the translation being added as follows:
Inscription in the Old Bible
Written by Abdu'l-Baha in Persian
THIS book is the Holy Book of God, of celestial Inspiration. It is the Bible of Salvation, the Noble Gospel. It is the mystery of the Kingdom and its light. It is the Divine Bounty, the sign of the guidance of God.
Abdu'l-Baha Abbas.
Address given by Abdu'l-Baha at the City Temple
Sunday, September 10th, 1911
(Abdu'l-Baha, Abdu'l-Baha in London, p. 17)
A gentleman connected with the work of a Settlement then asked what was the best method of raising up and civilizing the very lowest and most degraded and ignorant of the people and would their education come about gradually through the enlightenment of the Spirit, or was there any special means we could adopt to further this end?
Abdu'l-Baha replied that the best way was to give them spiritual teachings and enlightenment. He also remarked that the way to broaden the outlook of the very narrow-hearted and prejudiced, and to make them listen to a wider teaching, was by showing towards them the greatest kindness and love. The example of our lives was of more value than words.
(Abdu'l-Baha, Abdu'l-Baha in London, p. 72)
Another asked why the teachings of all religions are expressed largely by parables and metaphors and not in the plain language of the people.
Abdu'l-Baha replied: -- "Divine things are too deep to be expressed by common words. The heavenly teachings are expressed in parable in order to be understood and preserved for ages to come. When the spiritually minded dive deeply into the ocean of their meaning they bring to the surface the pearls of their inner significance. There is no greater pleasure than to study God's Word with a spiritual mind."
(Abdu'l-Baha, Abdu'l-Baha in London, p. 79)
The Heavenly Host, the Supreme Concourse are His legions; the Word of God is His sword; the power of God is His victory.
(Abdu'l-Baha, The Promulgation of Universal Peace, p. 5)
Praise be to God! The light of unity and love is shining in these faces. These spiritual susceptibilities are the real fruits of heaven. The Bab and Baha'u'llah over sixty years ago proclaimed the glad tidings of universal peace. The Bab was martyred in the Cause of God. Baha'u'llah suffered forty years as a prisoner and exile in order that the Kingdom of love might be established in the East and West. He has made it possible for us to meet here in love and unity. Because He suffered imprisonment, we are free to proclaim the oneness of the world of humanity for which He stood so long and faithfully. He was chained in dungeons, He was without food, His companions were thieves and criminals, He was subjected to every kind of abuse and infliction, but throughout it all He never ceased to proclaim the reality of the Word of God and the oneness of humanity. We have been brought together here by the power of His Word -- you from America, I from Persia -- all in love and unity of spirit. Was this possible in former centuries? If it is possible now after fifty years of sacrifice and teaching, what shall we expect in the wonderful centuries coming?
Therefore, let your faces be more radiant with hope and heavenly determination to serve the Cause of God, to spread the pure fragrances of the divine rose garden of unity, to awaken spiritual susceptibilities in the hearts of mankind, to kindle anew the spirit of humanity with divine fires and to reflect the glory of heaven to this gloomy world of materialism. When you possess these divine susceptibilities, you will be able to awaken and develop them in others. We cannot give of our wealth to the poor unless we possess it. How can the poor give to the poor? How can the soul that is deprived of the heavenly bounties develop in other souls capacity to receive those bounties?
Array yourselves in the perfection of divine virtues. I hope you may be quickened and vivified by the breaths of the Holy Spirit. Then shall ye indeed become the angels of heaven whom Christ promised would appear in this Day to gather the harvest of divine planting. This is my hope. This is my prayer for you.
12 April 1912
(Abdu'l-Baha, The Promulgation of Universal Peace, p. 6)
I was once conversing with a famous philosopher of the materialistic school in Alexandria. He was strongly opinionated upon the point that man and the other kingdoms of existence are under the control of nature and that, after all, man is only a social animal, often very much of an animal. When he was discomfited in argument, he said impetuously, "I see no difference between myself and the donkey, and I am not willing to admit distinctions which I cannot perceive." Abdu'l-Baha replied, "No, I consider you quite different and distinct; I call you a man and the donkey but an animal. I perceive that you are highly intelligent, whereas the donkey is not. I know that you are well versed in philosophy, and I also know that the donkey is entirely deficient in it; therefore, I am not willing to accept your statement."
Consider the lady beside me who is writing in this little book. It seems a very trifling, ordinary matter; but upon intelligent reflection you will conclude that what has been written presupposses and proves the existence of a writer. These words have not written themselves, and these letters have not come together of their own volition. It is evident there must be a writer.
And now consider this infinite universe. Is it possible that it could have been created without a Creator? Or that the Creator and cause of this infinite congeries of worlds should be without intelligence? Is the idea tenable that the Creator has no comprehension of what is manifested in creation? Man, the creature, has volition and certain virtues. Is it possible that his Creator is deprived of these? A child could not accept this belief and statement. It is perfectly evident that man did not create himself and that he cannot do so. How could man of his own weakness create such a mighty being? Therefore, the Creator of man must be more perfect and powerful than man. If the creative cause of man be simply on the same level with man, then man himself should be able to create, whereas we know very well that we cannot create even our own likeness. Therefore, the Creator of man must be endowed with superlative intelligence and power in all points that creation involves and implies. We are weak; He is mighty, because, were He not mighty, He could not have created us. We are ignorant; He is wise. We are poor; He is rich. Otherwise, He would have been incapable of our creation.
Among the proofs of the existence of a divine power is this: that things are often known by their opposites. Were it not for darkness, light could not be sensed. Were it not for death, life could not be known. If ignorance did not exist, knowledge would not be a reality. It is necessary that each should exist in order that the other should have reality. Night and day must be in order that each may be distinguished. Night itself is an indication and evidence of day which follows, and day itself indicates the coming night. Unless night were a reality, there could not be day. Were it not for death, there could be no life. Things are known by their opposites.
Therefore, our weakness is an evidence that there is might; our ignorance proves the reality of knowledge; our need is an indication of supply and wealth. Were it not for wealth, this need would not exist; were it not for knowledge, ignorance would be unknown; were it not for power, there would be no impotence. In other words, demand and supply is the law, and undoubtedly all virtues have a center and source. That source is God, from Whom all these bounties emanate.
3 May 1912 10
Talk at Hotel Plaza
Chicago, Illinois
Notes by Marzieh Moss
(Abdu'l-Baha, The Promulgation of Universal Peace, p. 81)
Christ spoke a parable in which He said His words were like the seeds of the sower; some fall upon stony ground, some upon sterile soil, some are choked by thorns and thistles, but some fall upon the ready, receptive and fertile ground of human hearts. When seeds are cast upon sterile soil, no growth follows. Those cast upon stony ground will grow a short time, but lacking deep roots will wither away. Thorns and thistles destroy others completely, but the seed cast in good ground brings forth harvest and fruitage.
In the same way, the words I speak to you here tonight may produce no effect whatever. Some hearts may be affected, then soon forget; others owing to superstitious ideas and imaginations may even fail to hear and understand; but the blessed souls who are attentive to my exhortation and admonition, listening with the ear of acceptance, allowing my words to penetrate effectively, will advance day by day toward full fruition, yea even to the Supreme Concourse. Consider how the parable makes attainment dependent upon capacity. Unless capacity is developed, the summons of the Kingdom cannot reach the ear, the light of the Sun of Truth will not be observed, and the fragrances of the rose garden of inner significance will be lost. Let us endeavor to attain capacity, susceptibility and worthiness that we may hear the call of the glad tidings of the Kingdom, become revivified by the breaths of the Holy Spirit, hoist the standard of the oneness of humanity, establish human brotherhood, and under the protection of divine grace attain the everlasting and eternal life. (Abdu'l-Baha, The Promulgation of Universal Peace, p. 149)